OUT NOW!

THE GRID

DOPPELGANGER

SBZ093CD
click on image below to order online



THE GRID: DOPPELGANGER -

OUT NOW!

Click here:http://www.myspace.com/gridmusic


The Grid are Dave Ball and Richard Norris. They formed in 1988 at the height of Acid House, releasing as their first single, the Balearic classic 'Floatation', in 1990, before notching up a string of increasingly successful albums -'Electric Head', '456', 'Evolver', 'Music For Dancing' - and ten hit singles, including 'Crystal Clear, 'Rollercoaster' 'Texas Cowboys' and the million selling 'Swamp Thing'. The band toured worldwide and remixed and produced numerous artists including Brian Eno, Pet Shop Boys, Happy Mondays and many more.

After a break in the nineties, the Grid reformed in 2004, playing their first gig in a decade in 2006 at the Coronet in London. "DOPPELGANGER" is their first album since 1995, and features the trademark Grid sound - sweeping, atmospheric electronics and hook laden melodies, fast forwarding into the future. A welcome return.
THE GRID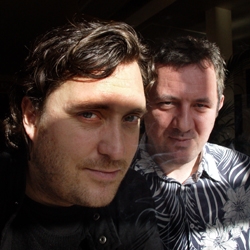 http://www.myspace.com/gridmusic
The Grid are the electronic dance group, consisting of Richard Norris and David Ball (formerly of Soft Cell), with contributions from the likes of percussionist Steve Sidelnyk and Luke Gifford.
They are most known for the hits Swamp Thing, Crystal Clear, Texas Cowboys, Rollercoaster and Floatation. They have recently released a new single entitled 'Put Your Hands Together' which features remixes from The Grid, MHC, Kriss Darang & Paul Jackson.
The new album which is entitled Doppelganger and is a welcome return to the classic Grid sound. Both the album and singles (as well as the act themselves) are signed to Some Bizzare
The Grid formed in 1988 and had their first success with debut single, the Balearic classic Floatation on East West in 1990. They went on to release a string of singles and four albums, and toured the UK, Europe, Asia and Australia. Their 1994 single Swamp Thing, which featured elaborate banjo lines (played by Roger Dinsdale) over house beats was widely popular in the UK, Europe and Australia, reaching #3 in the UK and Australia, as well as charting highly throughout the world. The single sold a million copies. The Grid's 1994 album Evolver, which contained the Swamp Thing single, reached number fourteen in the UK album charts. Other hits by The Grid include Texas Cowboys, Rollercoaster and Flotation. Contrary to popular belief, The Grid never actually split up, they just mutually agreed to put the act "on ice" so they could both pursue individual music interests they felt would help them to expand musically & that would eventually enhance The Grid in the long term when they decided to continue with the act. Dave Ball reformed Soft Cell with Marc Almond (another act that has never officially split up) and released a new album on Cooking Vinyl Records to critical acclaim as well as a live version of classic Soft Cell material and new tracks. He was also seen to be writing music scores for films. Richard Norris went away and formed The Droyds which went on to remix the likes of Armand Van Helden amongst others. He has also just finished writing the official biography of Paul Oakenfold which is published by Bantam Press on 24th Sept 2007. By 2005 the pair were back together and were reportedly to have been in the studio recording new tracks for an eagerly awaited return. They also played two gigs under the name GDM with female singer Misty Woods. The album Doppelganger on Some Bizzare Records which is now available.
Preview and Download tracks by The Grid using the Beatport Player below
Preview and Download tracks by The Grid using the 7Digital Player below
The Grid
Dance West
Saturday
It seems hard to believe in this day and age, but there was a glorious period when out-and-out dance music actually used to bother the charts. One of the outfits at the forefront of that glorious, if short-lived, movement was The Grid. Consisting of Richard Norris, one of dance music's unsung heroes with a list of production credits as long your arm (including Glastonbury royalty like Joe Strummer) and Dave Ball who as the pioneering synth-stroking other half of Soft Cell needs no introduction, The Grid had two big hits in 'Texas Cowboys' and 'Swamp Thing', became particularly huge in Japan and then split up in 1996. But on the quiet, they have been making a recent come-back, playing a few gigs and recording a new album, Doppelganger, now out on the legendary indie label Some Bizzare.
And here, in Dance West, they are – playing their first ever Glastonbury gig, even though they started making music in 1990. Ball and Norris stand in front of their keyboards, either side of a projector screen featuring seriously good visuals courtesy of occasional grid member Kieran. Physically, Dance West isn't the best place to play live – there's a huge amount of space between the front of the stage and the audience, and The Grid have been pushed towards the back of that stage. But the audience are there to dance to electronic music, and that's what The Grid provide.
Properly electronic music, that is. Throughout proceedings, Ball wears a shit-eating grin, as he coaxes some seriously squelchy analogue sounds from a synth augmented by one of those chaos-pad-type objects which responds to a hand being waved above it. Norris, in an acid house Shoom t-shirt, also beavers away at a synth, and is clearly enjoying himself, jumping up and down and waving his hands in the air. Everyone is instantly transported back to those heady early 90's.
Except that the music they make certainly doesn't sound dated – they kick off with a couple of new tracks, which would best be described as tough, muscular electro-tech-house. Then they launch into 'Crystal Clear', a shiver of recognition passes through the crowd and the intensity of the dancing ratchets up several gears. It helps that it's a seriously hard, squelchy take on. They showcase a fair amount of new material, including 'Slammer', a throbbing electro monster which particularly strikes a chord with the crowd, even though it's a track which was available on limited vinyl press but unaccountably left off Doppelganger. Near-meltdown greets the fun, bleepy stomp that is 'Texas Cowboys', but perhaps the most euphoric moment of their set is the last track, 'Flotation', a much-loved slab of pure balearica.
The Grid are well and truly back, and thank God they have signalled that fact by playing Glastonbury – Doppelganger has been out for a few months now - it marks a band that are still in fine form, and now have the benefit of 21st century studio techniques to add to their synth wizardry. Now they've played Glastonbury, we know they're back, so can we stop ignoring them, please?
After the gig, Ball reveals that not only is it the first time he has played Glastonbury, but it's the first time he has been here. An avuncular, jovial figure, he definitely seems to be enjoying the experience, though. Norris reminisces about the first time The Grid played in Japan: "We knew we were huge there and were going to be mobbed, and we were. But, disappointingly, we weren't greeted by hordes of screaming girls, but by guys who looked like bank clerks and wanted to talk about synths." Such are the hazards of being an electronic band…
Steve Boxer