Test Department
BEATING THE RETREAT - SBZ065CD

Click on image below to buy online...
Fall From Light / Kick to Kill / Sweet Sedation / Spring into Action / Plastic / Inheritance Cold Witness / Compulsion / Total State Machine /
Plus Extra Tracks
"They combine Bagpipes, Didgeridoos, Holst, Electronics, Socialist melodies and lyrics, Celtic roots music, Jazz and other outside elements in an exquisite whole."
NME
TEST DEPT
THE UNACCEPTABLE FACE OF FREEDOM - SBZ064CD

Click on image below to buy online...
Fuckhead / 51st State of America / Comrade Enver Hoxha / Fist / Statement / The Crushher / Victory / Corridor or Cells / The Unacceptable Face of Freedom - Face 1 / Face 2 / Face 3
"Rejecting the constraints of the rock arena, Employing visual imagery and political commitment in rare but invigorating performances" The Gaurdian
"The group has gained coherence and strength" The Independent
TEST DEPT
A GOOD NIGHT OUT

Click on image below to buy online...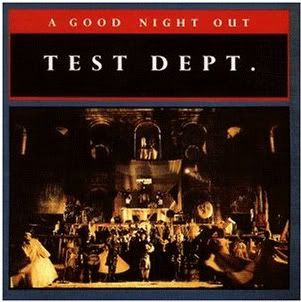 A Good Night Out / Long Live British Democracy Which Flourishes and is Constantly Perfected Under The Immaculate Guidance of the Great, Honorable, Generous and Correct Margaret Hilda Thatcher, She is the Blue Sky in the Hearts of All Nations, Our People pay Homage and Bow in Deep Respect and Gratitude to Her - The Milk of Human Kindness / Generous Terms / Victory / Cha Till Sinn Tuille / Demonomania / Voice of Reason
Test Dept were an industrial music band formed in New Cross, London, by unemployed musicians (including Alastair Adams, Paul Jamrozy, Angus Farquhar, Graham Cunnington, Tony Cudlip, Toby Burdon and Paul Hines) from Glasgow, Scotland, where the band later re-located. Formed in 1981, they are hailed by many musicians as one of the most influential early industrial music acts. Their approach was marked out by a strong commitment to radical politics. Their discography spans a wide variety of influences and styles, including a collaboration with the South Wales Striking Miners Choir in support of the Miners' Strike of 1984. They were particularly notable for complex and powerful percussion, as well as high-energy live performances. Like the German band Einstürzende Neubauten, with whom they are often compared, Test Dept used unconventional instruments such as scrap metal and industrial machinery as sound sources; however, Test Dept's use of these objects was far more rhythmic than was Neubauten's, and was often accompanied by film and slide shows. Continuing the re-issue of their extensive back catalogue Some Bizarre present here 2 classic albums from the band's 80's incarnation. Both re-issued in Dig packs like the other releases on the label such as FOETUS and NEUBAUTEN. Essential for any collector of early industrial!!!
TEST DEPT contributed to the soundtrack of Universal Pictures movie "Children of Men"