PSYCHIC TV
Formed after the dissolution of the hyper influencial and ground-breaking 'Industrial' outfit 'Throbbing Gristle'. Psychic TV began recording for Some Bizzare in 1982.
SBZ060CD
Double CD "PSYCHIC TV - FORCE THE HAND OF CHANCE"
26/05/2008
RE-ISSUE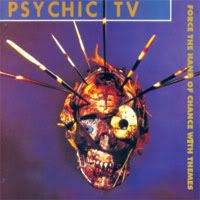 Psychic TV
FORCE THE HAND OF CHANCE
Double CD re-issue of Psychic TV's debut album from 1982. Second CD features the "Themes" a bonus album that was included in the 1st 5,000 copies of the original LP. The album featured high production values, catchy pop songs written by Alex Fergusson (with barbershop quartet vocals arranged by Andrew Pearson), and sound experiments primarily created by Peter Christopherson and Geff Rushton, a.k.a. John Balance - foreshadowing the pair's later work as Coil. Marc Almond was also involved.

Disc 1 - Force The Hand Of Chance
1. Just Drifting
2. Terminus
3. Stolen Kisses
4. (Interlude)
5. Caresse
6. Guiltless
7. Fast (Interlude)
8. No Go Go
9. Ov Power
10. Message From The Temple
Disc 2 - Themes
1. Thee Full Pack
2. Catalan
3. Just Drifting (Midnight)
4. Bubbles
5. Bonus
"The music is varied and suprisingly good. It ranges from gentle, slushy ballads like 'Just Drifting' and 'Caresse' to more sturdy, Clonking synthesizer-based pieces"
NME

SBZ061CD
CD "PSYCHIC TV DREAMS LESS SWEET"
26/05/2008
RE-ISSUE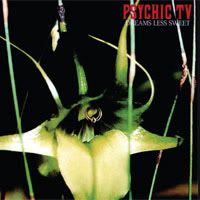 Psychic TV
DREAMS LESS SWEET
Re-issue of Psychic TV's second album fromk 1983, re-mastered and presented in a digpack. Continuing the high production values they employed on their debut "Force The Hand Of Chance" the album once again featured a mix of Alex Fergusson's psychedelic pop and Peter ChriStopherson's noise experiments. The album also featured a host of guest musicians and Choral singers to produce for it's day one of the most cinematic albums ever released

Hymn 23 / The Orchids / Botanica / Iron Glove / Always is Always / White Nights / Finale / Eleusis / Medmenham / Ancient Lights / Proof On / Survival / Eden 1 Eden 2 Eden 3 / Clouds without water / Black Moon / Silver and Gold / In the Nursery / Circle
"One of the few truly disaffected records to appear in the pop environment"
NME
"Psychic TV provide the most important work with communication that I know of in the popular medium."
William S Burroughs