COIL
SCATOLOGY
CATALOGUE NUMBER: FFKCD1
Originally Released in 1985
CLICK ON ALBUM IMAGE TO BUY ONLINE
Ubu Noir / Panic / At the Heart of It All / Tenderness of Wolves / The Spoiler / Clap / Aqua Regis / Restless Day / Solar Lodge / The Sewer Worker's Birthday Party / Godhead-Deathead / Cathedral in Flames / Tainted Love
Scatology received rave reviews and provoked scandal amongst prudes. It was Co-Produced by Clint Ruin (Foetus) and Gavin Friday. This Album also features a glorious version of 'Tainted Love'. The Video of which is one of only 30 housed in New Yorks Museum of Modern Art.
COIL
HORSE ROTORVATOR
CATALOGUE NUMBER: ROTA.CD1
Originally released in 1985
CLICK ON ALBUM IMAGE TO BUY ONLINE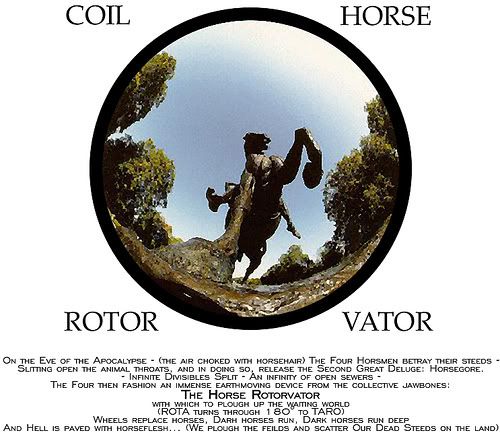 The Anal Staircase / Slur / Babylero / Ostia (Death Of Pasolini) Herald / Penetralia / Circles of Mania / Blood From The Air / Who by Fire / The Golden Section / First Five Minutes After Death / Ravenous

"This is the perfect mix of Film Noir and Gothic Horror. Steeped in English classicism. Beautifully Structured. Horse Rotorvator goes into a wilderness that has remained undug for aeons. Here Coil flex their muscles and produce nightmarish pop for inebriated purists."
NME